31 years at NJCU
by Ana María Rosado, DMA
Associate Professor, retired
Caroline L. Guarini Department of Music, Dance and Theatre
New Jersey City University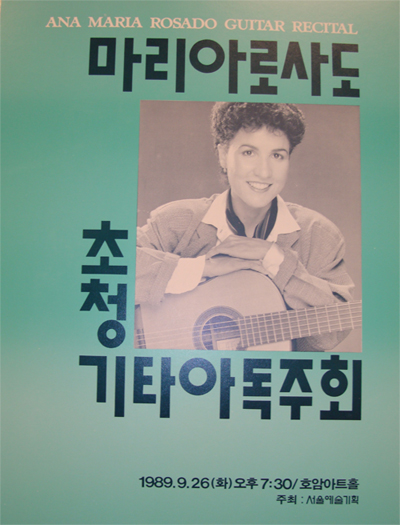 On July of 1986 I came to NYC from Puerto Rico to pursue higher studies and to expand my professional horizons. This led to a life-changing opportunity: my teaching career at the Jersey City State College, eventually New Jersey City University. In the next few pages I will share with you, patient readers, the story of this development and through it, my ideas on teaching and on life. Thanks for visiting!
In September of 1989 I was hired as adjunct faculty of guitar at the Jersey City State College, in the Department of Music, Dance & Theatre, after going through a search for the position. I worked in that position until 1991 when I won another search for a Half-time line. This lasted until about 1994 when my position was upgraded to a 3/4 line, on account of the number of students I was serving. Finally, in 2006 I received tenure for a full time position of Assistant Professor, after teaching 6 years of a full load, with my teaching responsibilities now including general music classes. By this time the university's name had been changed to New Jersey City University (1998), and the department renamed Caroline L. Guarini Department of Music, Dance and Theatre (2012). This employment was not only a great opportunity, it has also been a creative challenge: I constantly had to grow to continue to be of good service to the students and to the institution.
I entered retirement on July 1st, 2020, during the most wrenching event in recent history: the Covid-19 pandemic. What could have been a bittersweet last semester turned out to be an endurance test; going from in-person to online instruction was a sudden jolt of drama for the students and for the professors. We suddenly had to adjust years of tradition in instrumental instruction: the tucking of the instrument, the straightening of the shoulders, the small adjustments to the hand positions, and the playing along which helps them gain fluidity; all elements of a centuries-old craft that went out the window into a small computer screen, which delayed the sound-—no playing along—which cut the sound mid-phrase after an increase in volume—no dynamics permitted—and the partial view—either one hand or the other, rarely both—not to mention the mental fatigue of the medium's new demands upon our cognition—on top of the emotional trauma of the pandemic. New technologies will make this novel mode of instruction work better, but I feel very fortunate that I can move on and not have to re-invent myself for the post-pandemic era, as I plan to continue performing and to do volunteer work.

Check out my performance history while teaching at NJCU
My professional training was as a performer on the classical guitar and teaching came about as a corollary to the need to make a living, yet my teaching was never secondary to performing; I viewed the musical activities where I played as part of my growth as a teacher as well. I believe you cannot inspire students if your own aspirations are stunted, or if you grow frustrated by a lack of stimulation or challenges. Nevertheless, it is very difficult to sustain both a full- time teaching career and a professional performance schedule, especially if you teach in the large classroom, not just in private studio. I've had the good fortune to be able to continue to play even within the boundaries of a full-time teaching schedule.
My parallel career as a performer on the classical guitar, both internationally and locally has given me the opportunity to promote the name of NJCU and I never wasted any opportunity to do so. In 1993 I participated in the International Youth Music Festival in Bulgaria, in the same year was my orchestra debut with the Fantasía para un Gentilhombre by Joaquín Rodrigo with Dr. Edward Raditz conducting the Jersey City State College Orchestra. A high point of this professional activity was my tour as Artistic Ambassador for the USIA in 1995 with concerts and master classes in Mexico, Belize,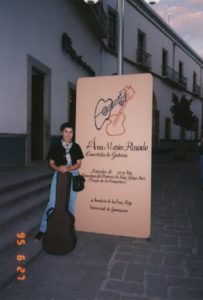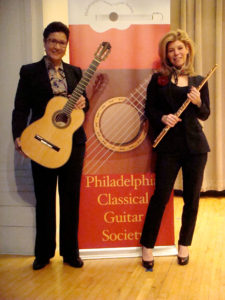 Guatemala, Honduras, El Salvador, Peru, Bolivia, and Argentina. I have several recordings to my credit: in 1994 "We've Got (Poly) Rhythm" for the Albany Records label and an independent release in 2010 "Salsa and other beats", both solo, and participated as chamber partner in the debut CD of flutist Carla Auld, "The Beauty in America", with music by American composers, released in 2010 by the MSR Classics label. With Ms. Auld, we formed a chamber ensemble, Duo Caramba, that remained quite active in the tristate area, from 2010 to 2013.
MDT's concert series Town and Gown on Sundays and Mid-Day on Wednesdays, coordinated by Dr. Janice Van Alen, Professor Emerita, were a venue where I performed many times as a soloist or with guests between 1996-2004. Upon her retirement in 2007 I took charge of the assignment and re-named them; In RealTime for the Sundays series to emphasize the live music aspect in the age of YouTube, and Music@One to reflect the change of time for the Wednesday's events.
Another shot at a concerto experience came in 2014 when I performed the Concierto de Aranjuez by Rodrigo with New Jersey City University Orchestra under Mr. Lou Kosma. I am grateful to Lou for accepting my suggestion and giving me this chance to test my skills against one of the bulwarks of the guitar repertoire and probably one of the most popular concerti for any instrument. A music department in a university needs an orchestra for the students to be able to gain experience in that format and for the faculty who can play to have an outlet for their continued development. Hopefully, soon our NJCU Orchestra will again sound loud and proud…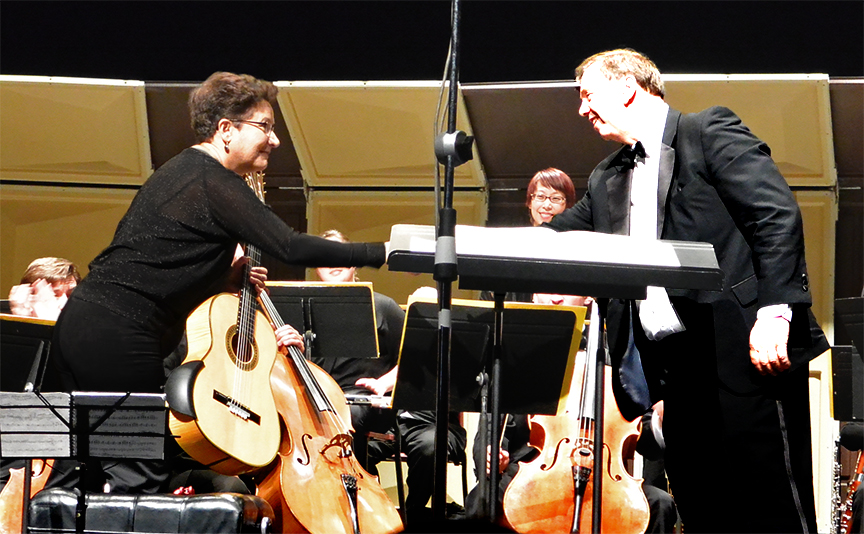 Between 2007- 2015, I participated three times in the New York Guitar Seminar at Mannes College of Music/The New School, initially with a lecture recital on "Latin American Rhythms in Guitar Music" and also leading masterclasses. These events have been one of my favorites ever. The young players, the older guitar aficionados and the international participants that convene there make it a multi-generational and diverse guitar party that lasts almost a week. The last time in 2015, with the NJCU Guitar Ensemble in tow, was a blast!
Several international trips during my time at NJCU include many tours of Puerto Rico (1995, 2002, 2004), multiple trips to Cuba (2012, 2013, 2016) and to Colombia (2017, 2019). NJCU supported the Cuba and Colombia forays via the university's travel grants for my participation in cultural events. During the second trip to Cuba (2014) I premiered a composition for guitar by Dr. Amparo Fabra; Tres bagatelas, now Kaleidoscopios, for the XXVII Festival of Contemporary Music of the City of Havana, which took place during November of 2014, the performance taking place in the famous Casa de las Américas.
From September 2015 through June 2016 I enjoyed a sabbatical leave. It was a banner year of travel and performances; Nepal, Puerto Rico, Haiti and my third trip to Cuba. The first Gharana International Music Festival in Kathmandu, the University of Puerto Rico's School of Architecture's 50th Anniversary Celebration in Río Piedras, the Teatro Taboas in the town of Manatí in PR, the UNESCO Salle FOKAL in Port-au-Prince, and the III Encuentro de Guitarras Identidades (Identities Guitar Meet) in Havana, were the various contexts for my performances.
The recent trips to Colombia were also part of music festivals. My last trip while at NJCU was for the Primer Festival Universitario de Música de Cámara de la Universidad El Bosque (First El Bosque University Chamber Music Festival) held on November, 2019.
Teaching
There is a clever term in Spanish for what freelancers or "gig" workers do to survive: pluriempleo—or moonlighting—for having multiple jobs. For many years I carried a heavy load of teaching outside of NJCU; from 1988-2010 I was a guitar instructor at the Manhattan School of Music Pre-College Division, I taught at the 92nd Street Y's School of Music from 1990-2005, and taught for a couple of years during the mid 1990's in the after-school music program at The Day School, a preparatory school in the Upper East Side of Manhattan. I also had a fair number of private students and did many gigs which helped with cash flow. With my job at NJCU progressively getting better in terms of number of hours/pay, this allowed me to gradually shed the other responsibilities and to concentrate all my efforts for the university, which I finally did in 2010.
I love teaching; the classroom is a stage where we have a captive audience, part of the effectiveness in teaching lies in keeping their attention. Most of the students enrolled in the Survey of Music classes that I taught for over 15 years were there by obligation of the curriculum. Yet I always had a handful in the class that seemed to really enjoy the music, and who participated thereby creating a dynamic tension in the room which in turn made it possible for me to stay motivated. One can only hope it made a difference…
Other classes that I taught for many years include Music of Latin America and Music of Spain–my happiest classroom time–for the Department of Modern Languages. I designed these classes for the Master's in World Languages program, led by the brilliant educator Dr. Grisel López-Díaz. The students this program attracted were dedicated and serious achievers, mainly Spanish language teachers, many were recent immigrants from all over Latin America who spoke the language beautifully and whose commitment to learning and succeeding made the classes a pleasure.
Another class which I designed, and taught initially as a guest lecturer at Rutgers University, in the Department of Latino and Hispanic Caribbean Studies was Music of the Caribbean, which later became Caribbean Music and Society for the LATI minor at NJCU. My professional training has been as classical guitarist, but my life experience as a Puerto Rican from the island, growing up in a household where my father loved popular Latin music and the classical guitar, plus the music I have focused on as a performer; mostly contemporary Latin American, provided "credentials" for these assignments. What I lacked in academic work in this particular field, I made up by collecting a large number of CD's and the best scholarly work available.  You cannot learn love for a subject in a classroom, and that I had in abundance!
Recent curriculum changes at the university, to keep up with the times, meant that the Survey of Music class for general studies was discarded in favor of more contemporary fare. I have taught for the last few years a Music Now class that mixes the history of avant-garde 20th Century music with the stories of Tin Pan Alley, Jazz, R&B, Rock & Roll, Pop, Hip-Hop, etc. Teaching is an activity that requires constant learning if done right, in this case I learned a lot about pop music and its history.
Constant Learner
Sensing a need to further my professional credentials, I enrolled in 1997-2001 in the Doctor in Musical Arts Degree in Performance at the State University of New York at Stony Brook where I was granted a Full Tuition Scholarship. Those 4 years under the wise guidance of Jerry Willard in guitar and the warm encouragement of Dr. Sarah Fuller as my advisor were a great time to re-assess my possibilities. I came out of the experience not just stronger as a player and a scholar but also with the fore mentioned as dear friends. And I survived four years of commuting often from my home in Manhattan to Long Island and from there to Jersey City and back home, all the while doing all the pluriempleo jobs! Working as a music educator and continuing your own studies is not for the lazy or faint of heart.
In the early years when I was still under the limit of the half-line, I invited some esteemed colleagues to assist me; from this time in the early 1990's I enjoyed working with Meliset Abreu, Teresa Tullo, and Francisco Roldán, young players who were also dedicated teachers. The curriculum for the guitar area also includes classes that I was eventually able to assign to others since my main responsibility always consisted of teaching the Applied lessons. With the Guitar Class for the general student population, and the Guitar Methods for the Music Education majors, my choice was to have former students who had obtained Masters degrees take care of these and gain experience teaching at the college level: Elena Loizou, Bernie Mathews and Jayson Martinez have assisted me with excellence over the course of my career at NJCU.
By 2013 there were 28 guitar majors and I had had to again seek out the support of others to teach Applied lessons. In 2011 Francisco Roldán, joined us again at NJCU, and in 2012 I invited João Luiz Rezende-Lopes, from the Brasil Guitar Duo, to come to teach for us, in what was his first teaching job in the USA; now he runs the guitar program at one of my alma maters; Stony Brook. For a very short while, Francisco, João and I played as a trio and we even took on a name: Cuerdas al Aire (Open Strings) and played at the Mannes College of Music /The New School Guitar Seminar in 2015. To perform with colleagues is an uplifting experience and I enjoyed the camaraderie with these two fine performers.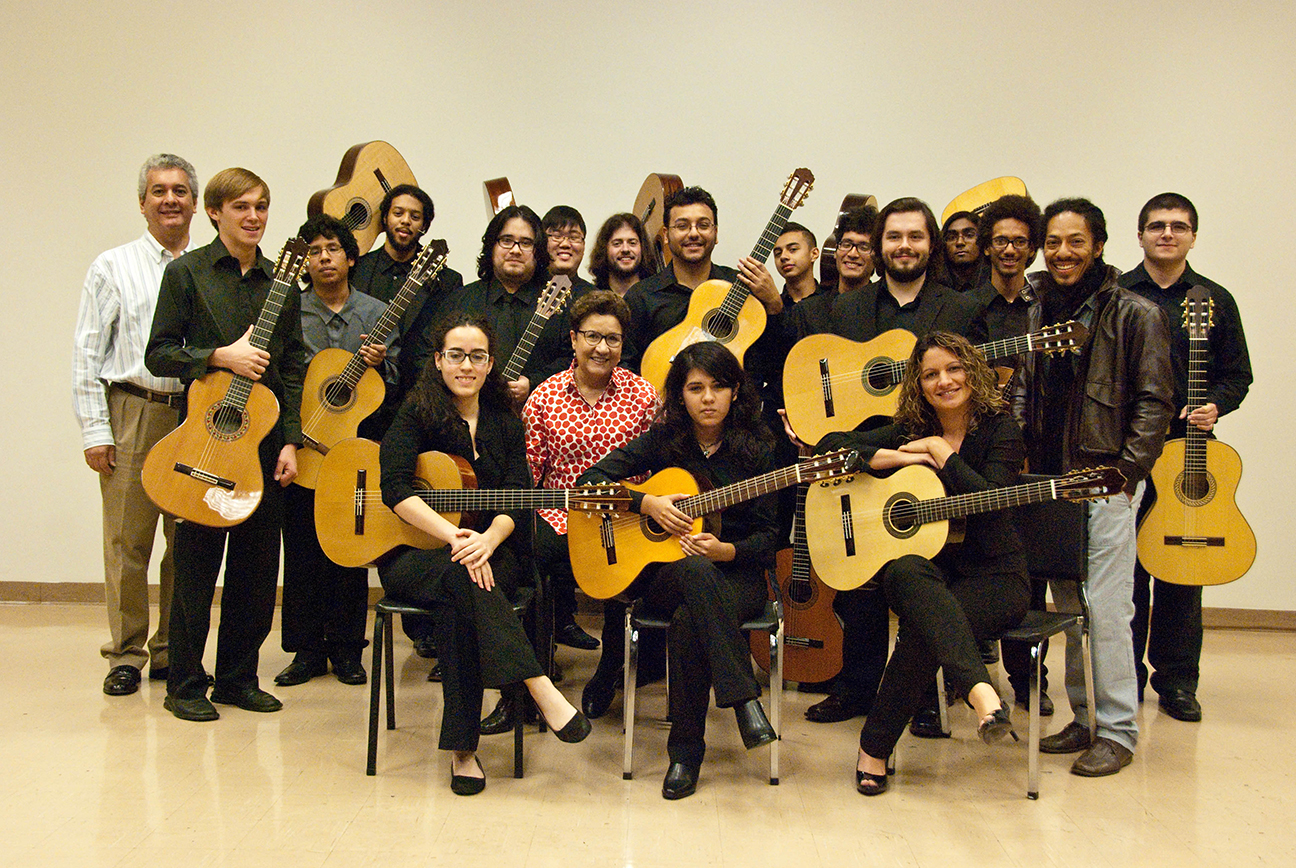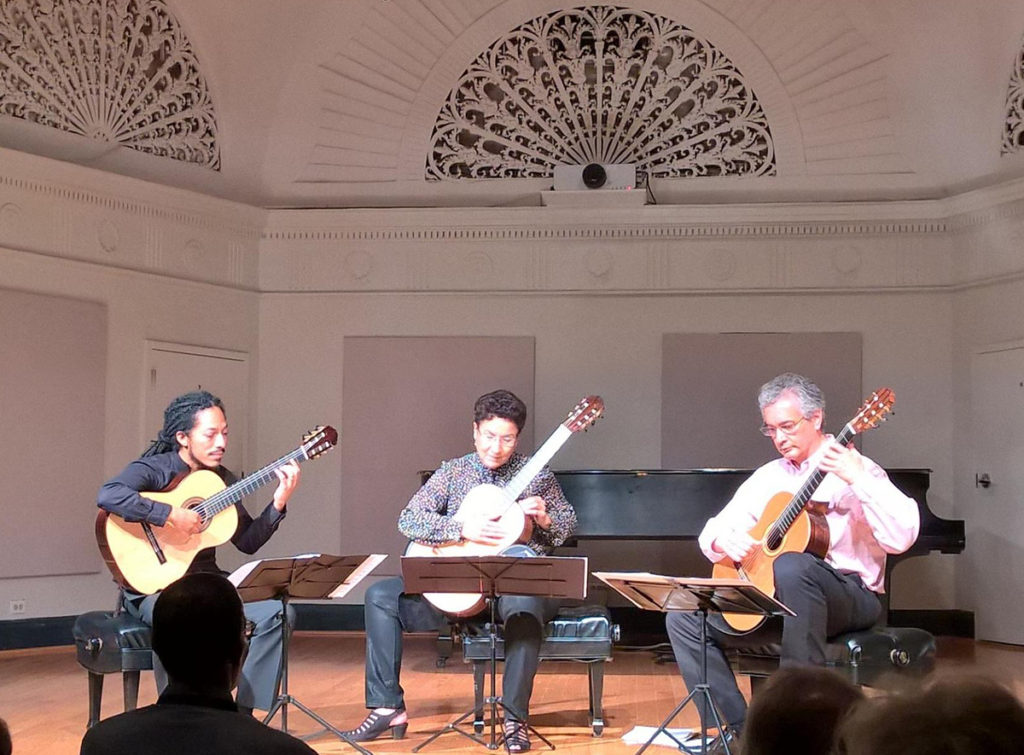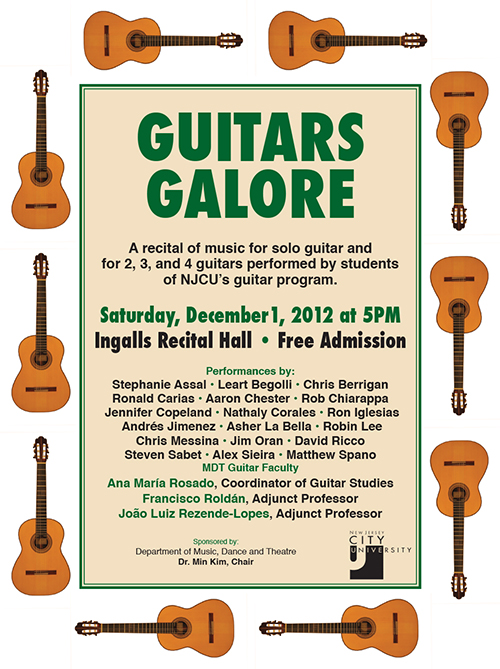 Students are at the heart of any educational institution, we are as good as the students we attract; and if these are not strong then it is our job to make them. Guitar majors that come to NJCU have traditionally been mostly music education candidates who wish to become teachers in the public school system. The concert stage being the pipe dream that it is for many, a career in music education is a way to keep the musical flame alive, to instill in others the love we have for the art form and to continue to develop an audience for the best performers. An education in music is a value in itself, regardless of making it a career choice; if you excel or have a serious avocation in music, your chances of succeeding in anything else are multiplied. I believe the discipline of music and the mental acuity it provides translates well for the handling of complex tasks; if you can make music you can do anything, and your life will be richer for it. That said, we teach all students as if they're going to be center stage; giving them the tools to understand what it takes to play at a professional level gives them a perspective that they can apply to their own future responsibilities with younger students: you never know when an exceptionally talented child will walk into your classroom/studio and it is your duty to guide them well.
I've been very lucky to have had wonderful students over the course of these many years, and though I cannot mention (nor recall) them all, there are some who stand out and to whom I would like to give a shout-out. Jayson Martinez–who did his Bachelors and Masters under my guidance–is a gifted player and a dynamic educator, Bernie Mathews is a versatile musician who can play any instrument he wants and conduct orchestras, Joel Perry (RIP) the first student who enrolled in the Masters in Performance degree in guitar at NJCU was a fine human being, and already a distinguished teacher and composer who played jazz as well as classical, I remember him with much affection. Some of the students which I can recall fondly are a talented bunch who made the lesson time a joyous one for me; Nancy Cruz, Joshua Forsythe, Jaime Rodriguez, Christian Berrigan, Nathaly Corales, Ertunc "Jim" Oran, Andrés Jimenez, Román Cogliati, Quiara Polanco, Yulema Bernal, Alex Sieira, Ron Carias, David Ricco, Robin Lee, Germán Gonzalez, Asher La Bella and Dr. Steven Sabet, a continuing education student who is the guitar teacher at Thomas Jefferson Arts Academy in Elizabeth.
[To hear many of the students and some of my performances  please visit and subscribe  to my YouTube channel.] 
Part of the strategy for giving them a taste of the stage, apart from the Seminar class and the obbligato juries at the end of each semester, was to search out opportunities for them in and outside of school. I endeavored to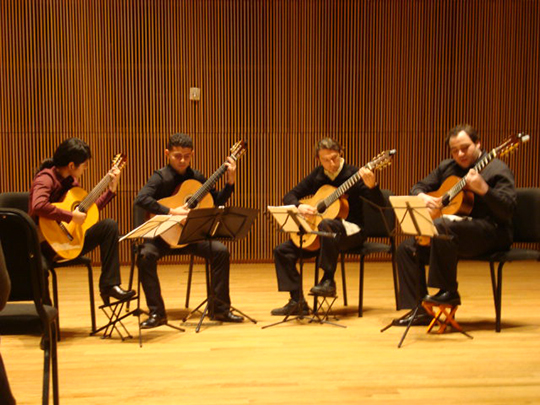 have them play at public high schools for recruiting events; the TJAA in Elizabeth was a routine stop in our tours, as well as the North Bergen High School, the Arts High School in Newark and the Bayonne High School. I also created a concert series of sorts; for quite a few years we had Guitars Galore (2012-2018), a yearly event where a large number of students performed and which their families could attend, given the choice of day and time.
The NJCU Guitar Ensemble performed alongside students from many big-name schools in the two Guitar Foundation of America Regional Symposia held at NYC's DiMenna Center in 2012 and 2014, and in the 2015 New York Guitar Seminar at Mannes College of Music/The New School, where they performed in the student recitals, and partook of masterclasses and chamber coaching.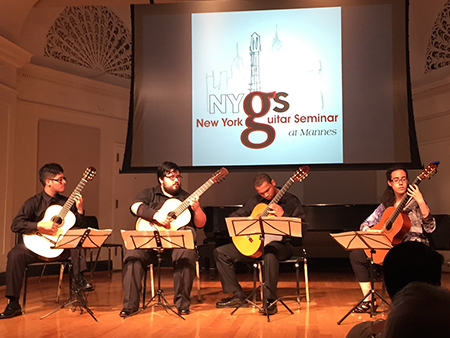 The guitar ensembles also played in Trumpets, a jazz club in Montclair, in the Guitar Night sponsored by the New Jersey Guitar and Mandolin Society, in May 2012. A fun night!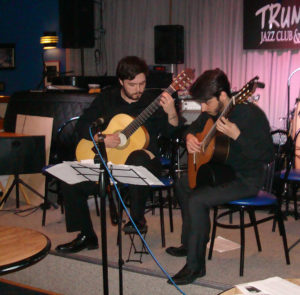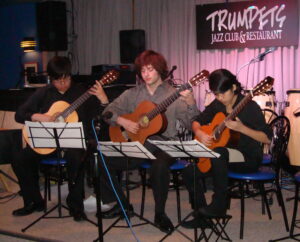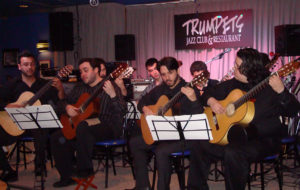 Weill Recital Hall at Carnegie Hall
Certainly the most prestigious event at which the guitar students participated was the MDT Showcase recital at Weill Recital Hall at Carnegie Hall, in April of 2018, where the Si-Yo Music Society Foundation granted NJCU's Caroline L. Guarini Music, Dance and Theatre Department with the first Sau-Wing and Jean L. Lam Award for achievement. I was very proud of the guitar majors that participated, even though they were not directly my students; João Luiz was the coach for the trio. In sum total it was the Guitar Program represented, where the work of each of the instructors was equally valued and where the faculty shared the same goal: to give our students the strongest training and the richest experience.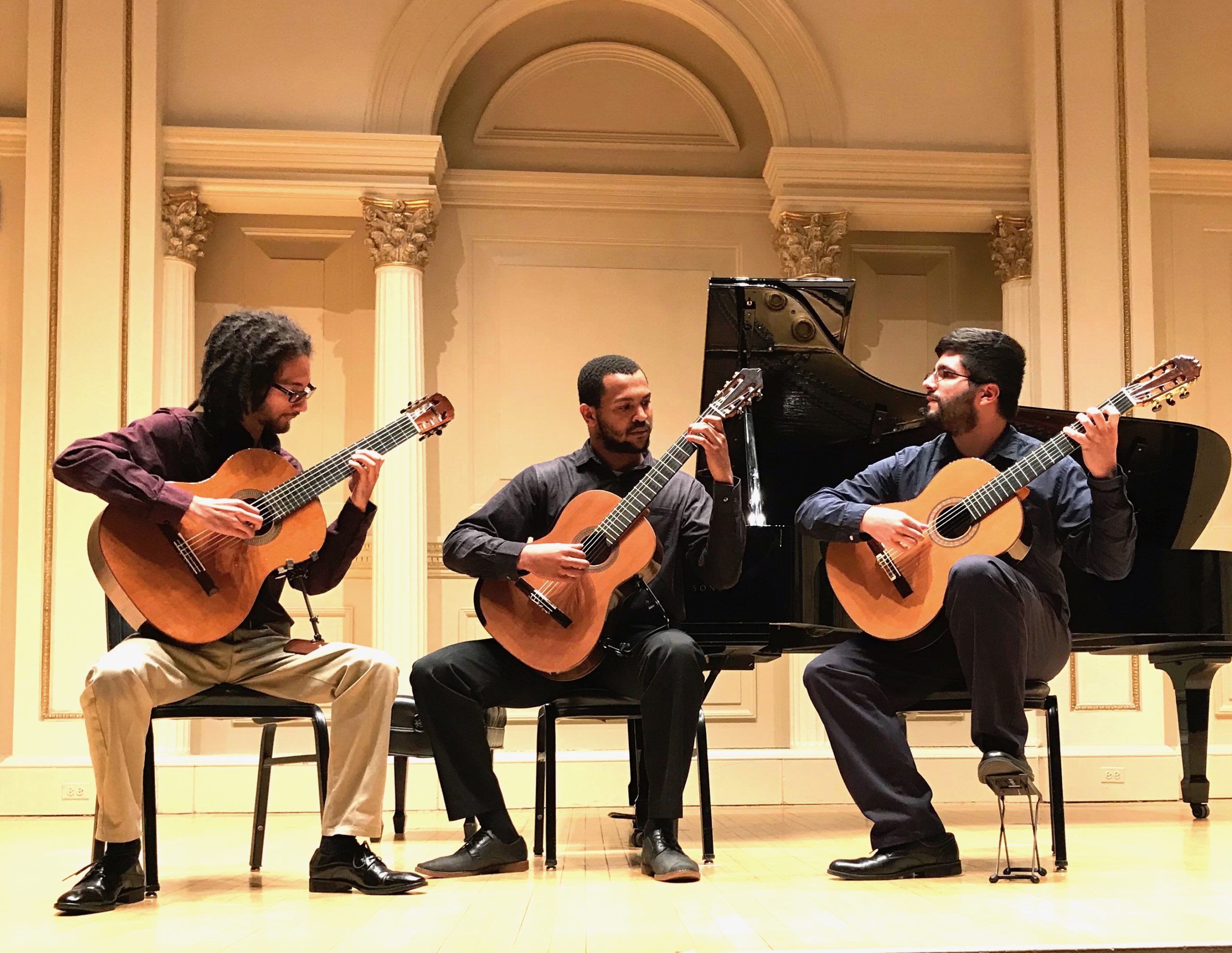 Guitar Sunday at NJCU
One of the most important activities that I had the opportunity to pursue at the university was a masterclass/recital once-a-year event which I presented from 2004-2016 starting with the magnificent Roland Dyens (RIP), and followed in subsequent years by luminaries such as: Jorge Morel, Fabio Zanon, Jason Vieux, Eliot Fisk, David Leisner, Benjamin Verdery, René Izquierdo, the Newman and Oltman Guitar Duo, Berta Rojas, Iliana Matos, and the Galy and Eduardo Martín Duo. A true galaxy of stars from the guitar microcosmos!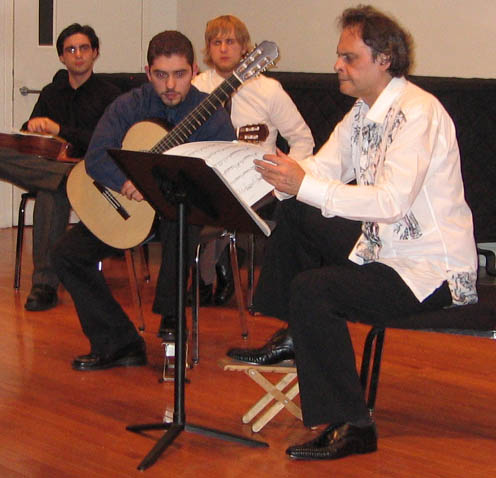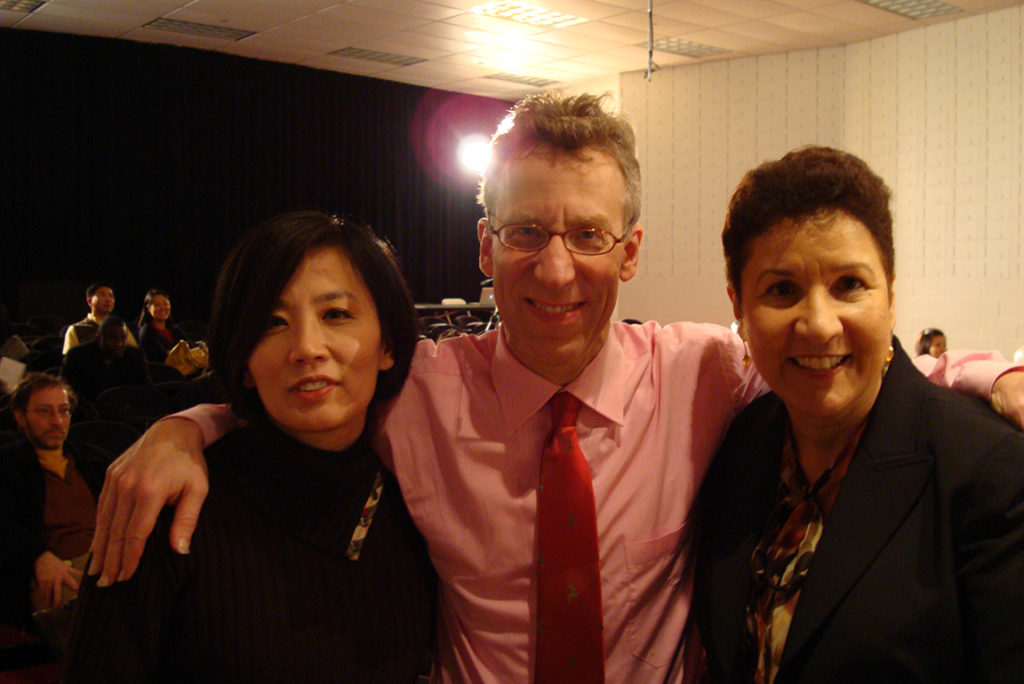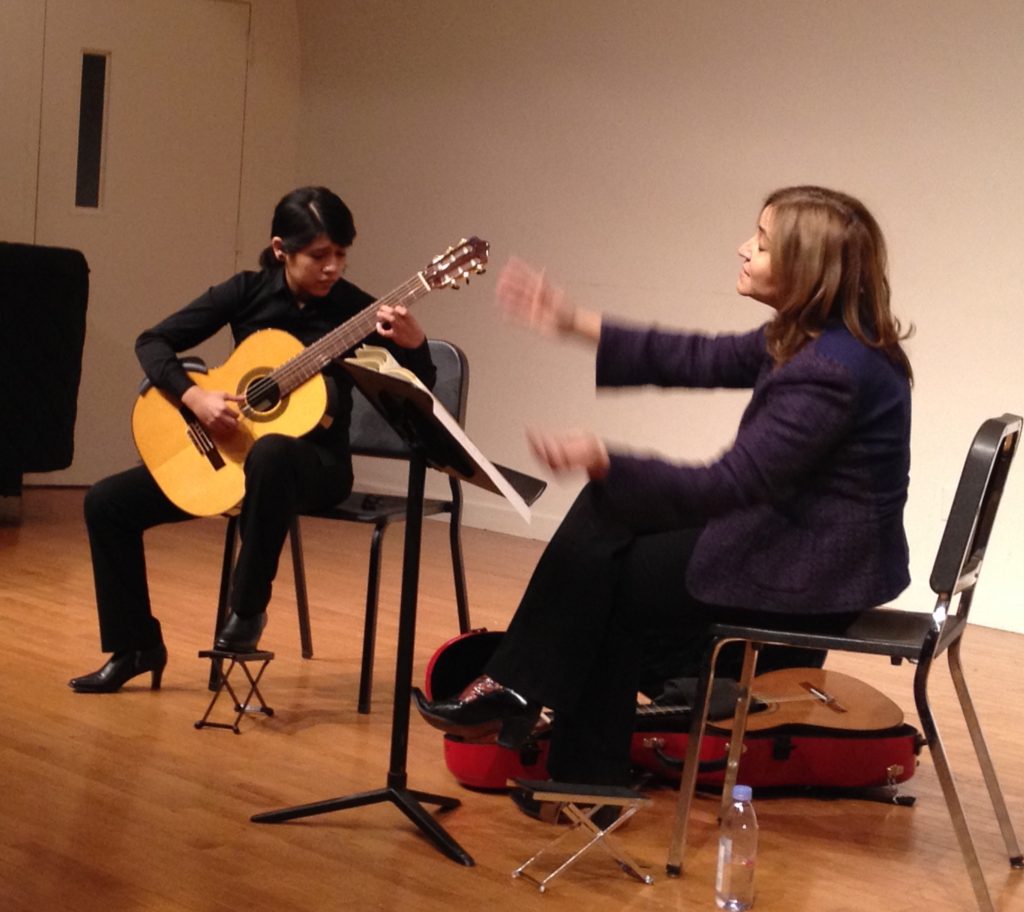 Other prominent guitarists that I presented in different contexts include: Carlos Barbosa-Lima, Ricardo Iznaola, Rubén González, Iván Rijos, Jerry Willard, Lars Frandsen, the Brasil Guitar Duo, Francisco Roldán, Quaternaglia, Alex Parra Ríos, the Mayes Guitar Duo, Frank Wallace (RIP), Paulo Bellinati, Eletheria Kotzia and for my last event: the next coordinator for the guitar program at NJCU: Turkish-American virtuoso Celil Refik Kaya. I know the guitar program will be in great hands!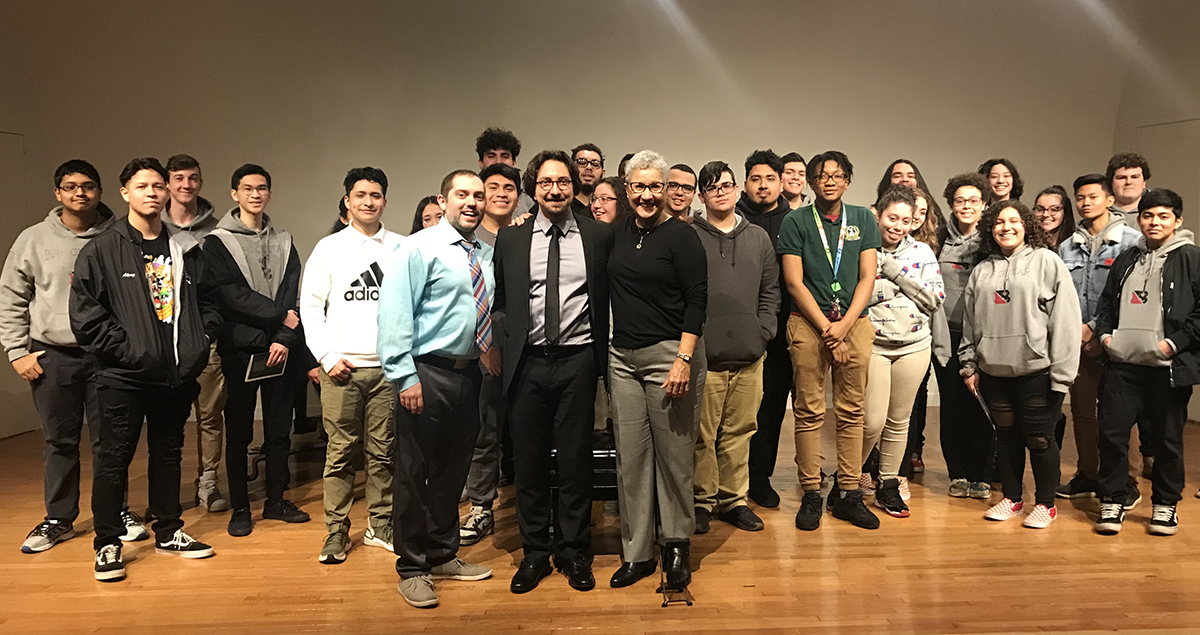 Concert Series
Many of these artists performed as part of the concert series that I directed at MDT, at the Ingalls Recital Hall from 2007-2020: Music@One and In RealTime, with a short lived Music Among Books at the Congressman Frank J. Guarini Library, series which were designed to enrich the educational offerings of the department by presenting a variety of solo and chamber music, which also included jazz and what is called "world music" for lack of a better term…music is music!
The list of the artists and groups that I presented over the span of 13 years in the concert series would be cumbersome to add to this text, but I must say that I am grateful to the university for having had this opportunity to develop my vision of inclusiveness and diversity by presenting all types of concert music by guests and by our own faculty and alumni. For example: Classical and Romantic European, Gospel choir, Balinese gamelan, Afro-Pop, Sephardic, Latin American Baroque, piano music from Spain, Bolivia and Puerto Rico, Turkish classical, Indian classical, Peruvian jazz, Medieval Iberian, Korean songs, experimental contemporary music…plus a huge variety of instrumental combinations, think bagpipes, kora, quijada de burro (donkey jawbone)…the menu was full of exotic flavors and rich in musical calories…
Acknowledgements
During my 31 years at NJCU I worked under a number of chairs:  Dr. Richard D. Scott (RIP), followed briefly by Mr. Nicholas Cerrato, a span of 15 years for Dr. Edward Raditz, a short co-chair experiment between Dr. Donna Connolly and Dr. Min Kim, followed by 9 years of Dr. Kim and Dr. Amparo Fabra for the last year of my career.  In terms of their impact on my activity at NJCU: Mr. Cerrato gave me the opportunity to teach regular classes and secured the ¾ time position, Dr. Raditz sustained this expansion and gave me the first opportunity to play with the NJCU orchestra under his baton and also supported my guitar area with funds for advertisement and for guest performers in the Guitar Sunday at NJCU series. It was Dr. Kim who made the biggest difference in the quality of my work life:  she trusted me with the Graduate Studies Coordinator title and responsibilities, assigned me graduate level classes such as Romantic Music and Music in America and thus helped me earn an Associate Professor promotion, all the while continuing to support my work, which by now included the department's concert series. I am thankful to all, and wish Dr. Fabra much success in her endeavors.
We cannot succeed without the help of many; the following members of the NJCU community supported my work in a variety of ways:  Ms. Betty Gerena (retired), a vital sponsor of my early work at JCSC, Dr. Alberto Barugel (retired), chair of the Department of Modern Languages, Dr. Liza Fiol-Matta and  Dr. Barbara Feldman, former Deans of College of Arts and  Sciences,  Dr. Grace Bulaong (retired), long term director of the CFJG Library and a true music lover, Dr. Donna Connolly (retired), MDT Voice Coordinator and a wonderful chamber music partner, Mr. Paul Robertson, senior staff at MDT and talented percussionist, Dr. Mirtha Quintanales, professor at LATI who opened the doors of Cuba for me, Dr. Maria Rost (retired), Professor Emerita who encouraged me to request tenure, and the AFT Local 1839 which guided my successful request. These are some of the many colleagues who were there for me through the years and helped make NJCU a second home. I am grateful to all and will miss NJCU.